Meet our PlaceHolder Winner
Congratulations to the winner of our PlaceHolder competition, Libby Derham! Read more about Libby's winning work and her art practice below, and keep an eye out for her beautiful bookmarks in Sunshine Coast Libraries soon!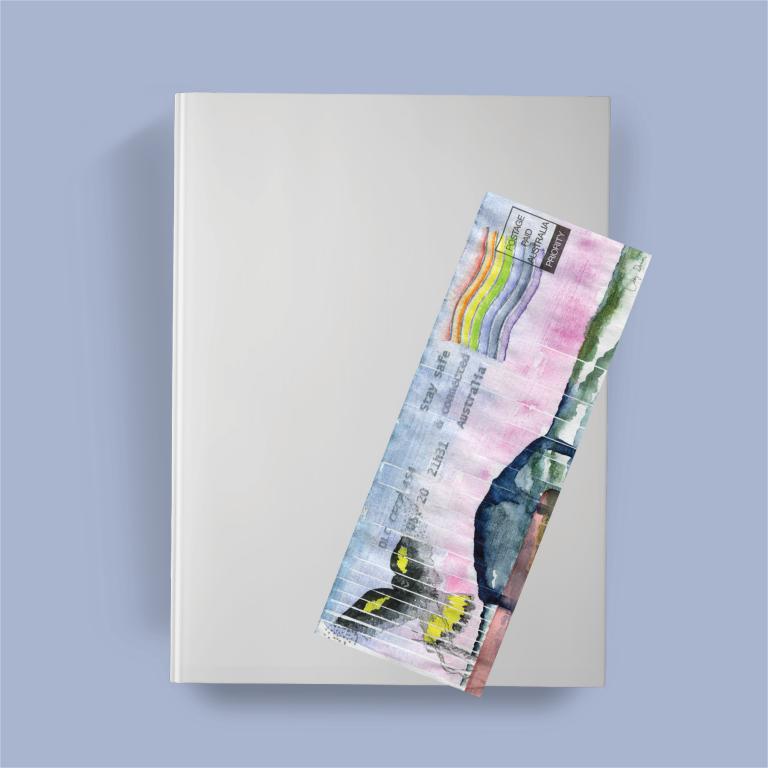 Artist Statement
Clipped Wings
"As a landscape artist I am deeply connected to the outdoor environment and when weekly plein air painting sessions were stopped during Covid it felt like a jail sentence. The masked lines in my work represent this restriction and this view captures a scene from my back deck of Mt. Coolum at sunset; one I am lucky to have. For many, this restriction in travel felt like a clipping of wings and the Black Cockatoos, who fly over home, represent my cancelled travel to Japan for my 40th this year. Like millions of others around the world my children and I created rainbows to place in our window to show support for the health workers. Painted in watercolour, part of my practice sees the reuse of recycled envelopes as substrate; this one bears the postmark relating to COVID reminding people to stay safe. Like many, I am so thankful to be living in the best place during this time, the Sunshine Coast."
About the Artist
Watercolour runs in Libby's veins, going back four generations in her family. She has a strong appreciation of the beauty in natural landscapes and works en plein air weekly. Libby is currently exploring watercolour on unconventional substrates and seeks to capture the sensory experience of the landscape into her work.
Libby has been finalist in the Du Rietz Art Awards and the Sunshine Coast Local Artist Local Content Awards. Originally from England, she studied Visual Art at Surrey Institute of Art and Design in the UK before completing a teaching degree, majoring in Visual Art, at Monash University, Victoria.
To see more of Libby's work, head to her website or Instagram